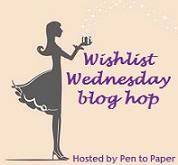 Wishlist Wednesday is a book blog hop hosted by Dani from Pen to Paper. Each week you post one book from your wish list that you really want to read.
So my Wishlist Wednesday book is …
Release Date:
September15th
2011
In the sequel, Maggie learns much more about all the strange things that happened to her, and has to face new ones. She rebels against it, but ultimately, must face it for her new families sake and maybe even her life.
Bish went from being her biggest supporter to her biggest pain in the butt and Kyle's intentions to attract her interest may not be so innocent.
Caleb and Maggie face many new obstacles together and fight to work through them but will one that should be a good thing be too much for Maggie to handle?
I only found this series the other day on Goodreads and I have no idea why I haven't heard about it before. I read the first one and couldn't put it down so I'm so eager to get to the second one. Doesn't it sound amazing?
I'm been being very careful about reading too much about it online though because I don't want to spoil it for myself!